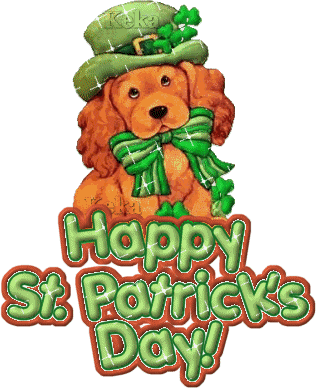 Happy St. Patrick's Day! You gotta love a day devoted to all things Irish. I personally don't think I have any Irish in me but that's the beauty of St. Patrick's Day, the Irish don't care if you're Irish or not. They just love to have a good time and welcome everyone! I loved this little dog, which really has nothing to do with the holiday but it's cute!
On a totally unrelated subject, did anyone watch the beginning of the series that HBO has about John Adams last night? The series started last night and will continue for a few weeks. My sweetie and I watched most of it and are recording the whole series. Pretty good stuff and really good acting. We both love history and have read David McCullough's 1776 and his book on John Adams so we were both interested in how this series would turn out. It's sometimes hard to watch how brutal it was to live back then but it is good so far.
Anyway, I hope that today you have the luck of the Irish all day and everyday.